I am taking a cruise trip from tomorrow to Antarctica!
I am a bit nervous to my first cruise.
The ship leaves from Buenos Aires and back to the same place after 14 days.
Usually people take cruise from Usuaia or take airplane from Punta Alenas in Chile to get to Antarctica, but cruise from big cities such as BA or Santiago costs much less than usual.
The difference is, you really go to Antarctic continent or just go to the Antarctica Peninsula, and my cruise don't go to the continent area.
I just want to see (hopefully eat) some penguins, see the stars, and eat some Antarctic ice.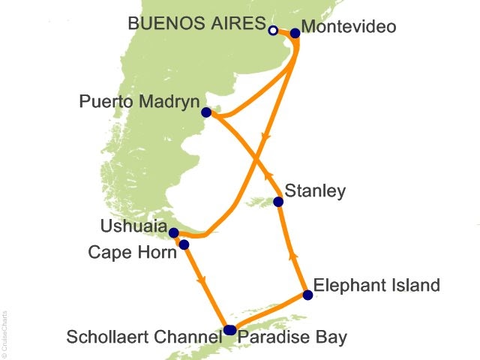 Here is my itinerary;
14 Night Antarctica Cruise
Day
Date
Port of Call
Sun
Jan 19, 2020
Buenos Aires, Argentina
Mon
Jan 20, 2020
At Sea
Tue
Jan 21, 2020
At Sea
Wed
Jan 22, 2020
At Sea
Thu
Jan 23, 2020
Ushuaia, Argentina
Fri
Jan 24, 2020
Cruising Cape Horn, Chile
Sat
Jan 25, 2020
Paradise Bay, Antarctica
Sat
Jan 25, 2020
Cuverville / Gerlache Strait
Sat
Jan 25, 2020
Cruising Schollart Channel, Antarctica
Sun
Jan 26, 2020
Elephant Island, Antarctica
Mon
Jan 27, 2020
At Sea
Tue
Jan 28, 2020
Port Stanley, Falkland Islands
Wed
Jan 29, 2020
At Sea
Thu
Jan 30, 2020
Puerto Madryn, Argentina
Fri
Jan 31, 2020
At Sea
Sat
Feb 1, 2020
Montevideo, Uruguay
Sun
Feb 2, 2020
Buenos Aires, Argentina
For this cruise, I paied 4200 USD, for double bed room with 3 meals a day, and unlimited use of gym and swiming pool.
So if I have one more person it will stay the same price.
This is where I found this extremely cheap one comparing to usual price (normally starting from 7000 USD).

The point is, tours and excursions on the stopping points are not included to the fee.
Each tours provided by the cruise company costs around 200 USD per tour, but I heard there are a lot of cheap tours if I land on to the stopping point.
But the good thing about the cruise company tour is, they wait for you if the tour is late.
Tours in Argentine do not have problem (maybe I can book something on the land) but for the one in Antarctica costs around 300 USD for each, and it's all sold-out!
I am not sure what to do in Antarctica, I will ask the tour desk after I am in the ship tomorrow.

Internet is also not included to the fee.
Payment is different for the number of devices, one device for entire cruise costs around 300 USD!
It costs A LOT!
Total fee I am paying will be around 5000 USD, also I am going to the Carnival in Rio next month!

There are so many prohibited items to the cruise, such as knives and extension codes.
Hard liquors are also prohibited (to make you pay in the ship), you should pay 25 USD per wine bottle.
If you do not want to be confiscated your items, this service may be useful.
I am very nervous if I can check in!
Of course I will connect to the internet and upload everything!